How having the right key person can make you and your child happier!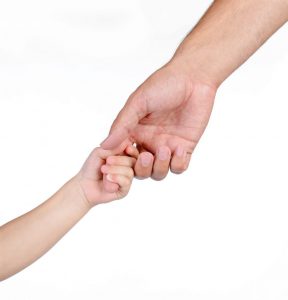 We all know how much easier it is to do things when we feel calm, safe and unstressed; we can complete our day's work more efficiently, we have the best ideas, we can deal better with upsets and things going wrong, and we generally feel more able to stride through our day with a smile; feeling more confident about our own qualities and abilities. This helps us to achieve more in our work life, social life and in our general emotional well-being. Part of the way that we as adults do this is by retaining in our mind the knowledge that our loved ones are there, gunning for us in the background. We know that although they may not be with us they are still busy thinking of us, loving us for who we are, protecting us from harm and looking out for our interests.
Young children frequently need reminding of this, as they develop their sense of 'permanence'; the idea that things (and people!) continue to exist, even when not in view.  A good key person (nursery worker, childminder, grandma…) plays a really important role in this, which is often underestimated! A familiar and loving adult who regularly cares for your child and meets their day to day needs can help to fill that Mummy / Daddy shaped hole, just until your return. From the safe sanctuary of any loving and caring relationship your child can continue to thrive, explore, learn and play; gaining new experiences and learning how to deal with setbacks, without ever feeling abandoned or alone.
The term 'key person' is most widely used in group nursery settings but can be used to describe any adult who regularly cares for the day to day needs of a child. That includes you! A child in a two parent family may well have strong emotional ties with both parents, in addition to close family friends and other family members who regularly help to care for that child. In a childcare setting the 'key person' will usually be the person responsible for day to day pastoral care (feeding, routines, nappy changing, cuddles for bumps etc) in addition to planning activities and experiences that they know your child will enjoy, observing and recording what your child is doing, and communicating (sharing AND listening) regularly with you.
I regularly hear parents (particularly mothers it seems!) worrying about being 'replaced' in their child's affections. I will always reassure them that, provided their bond with their child is loving and strong, this simply will not happen. We all have room in our hearts for more than one person and while a relationship between a child and their key person can often become very close, it will never scratch the surface of a secure bond between mother and child. Those of you sharing the parenting role with another adult will know that the relationship between a child and each parent is never exactly the same, but no less important for all that. In fact, another adult can often reinforce and strengthen the bonds between your child and you.
In addition to being the first port of call for you child, a good key person will work hard to develop a good relationship with you, as the child's parent. Not only does that help them to know your child better, in order to really help them to thrive, but it can also be an enormous support for you; helping to bridge the gap and fill in the blanks when your child is not with you. They can step in with reassurance when you are worried, talk positively about you when you are not there, provide your child with a link to you through pictures, technology and information sharing, and very importantly ensure that you know what experiences your child has had that day (both positive and negative) so that you can revisit them with your child when you are together.
As with any relationship though, this is a two-way street. An effective key person is dependent on clear and regular communication with you, knowledge of your child's life at home, updates on key events, experiences, worries…anything that might affect or influence your child, both positively or negatively. When your child is at home you can also help to reinforce their relationship in a reciprocal way, helping your child to know that their key person sees the value in them. This can be as simple as reminding them to 'tell Nadia when you see her', or reassuring them that 'Matt was very proud of you yesterday'.