A Bit More About Me!
In this blog I hope to share some of the knowledge I have gained while working in early education. These are things that have directly influenced the way I have chosen to raise my children, although I am certainly not making any claims as to my own parenting prowess! There is definitely no such thing as the 'perfect parent' and all the knowledge in the world means nothing when faced with an incoherent toddler (or tweenie!) tantrum, but a better understanding of what is going on inside my children's heads has certainly helped me to be a little more tolerant, and hopefully has helped them along a bit too!
I am a strong advocate of the theory that a parent has only to be 'good enough' in order to have children that thrive and do well. I think that today's society imposes far too much pressure on parents to achieve some impossible ideals, however, with extended families living further apart and young parents becoming increasingly isolated from their communities, we all need a little help and support in what is a very demanding job! In my role both as a professional and as a parent, I have become aware of the lack of high quality support and information for what has become known as 'thinking parents'. Whilst I find this term fairly patronising (aren't all parents capable of thought?) it is true that there exists an enormous group of parents who fall outside of the scope of the highly targeted services provided by Children's Centres and the Social Care system; and yet would still like to know more about how to support their child's development at home. Whilst book shops, libraries and the internet are full of books on 'parenting' many of them are written at a very basic level, and some are often sorely out of date, having been written before the recent (only in the last 10 or 15 years) burst of scientific research into child development and learning that has been challenging many traditional ways of thinking.
As a professional myself I was very comfortable working at a highly skilled and knowledgeable level in my chosen career, and yet on entering parenthood I was routinely treated as if I had no basic common sense, let alone the capacity to understand big words and even bigger concepts! There is a reason for this; most provision is targeted at the most 'needy' and 'vulnerable' of families with good reason; they need it most!
It is also true, however, that in the current climate a nursery key worker (often young and inexperienced and nearly always poorly rewarded, financially) is expected to hold knowledge and skills almost equivalent to that of a qualified teacher, whilst the majority of parents are left to sift through an abundance of 'advice' from all sides, without knowing what is the good stuff and what is out of date and even potentially damaging! Whilst I fully support the need for high quality training and support for all early years professionals (working with children in, what are arguably, the most critical stages of their lives) I can't help thinking that if, as the Early Years Foundation Stage (EYFS) proclaims, 'parents are a child's primary educator', shouldn't all parents also have access to the same high quality information on how they can best support their child's learning and development?
When my first baby was two years old I made the difficult decision to leave the teaching profession, after gaining several years of experience, teaching in Reception and Key Stage One (years 1 and 2), as well as leading the provision for Early Years in my school. I then worked for seven years as an Early Years Foundation Stage Advisor (EYFSA) for Cambridgeshire County Council. This rewarding job involved providing support, challenge and training to professionals working with children under 5; from childminders and children's centre staff, to those leading and working in nurseries and pre-schools across the Cambridgeshire area. During this time I further developed my own knowledge and understanding of how young children learn and had many 'if only I'd known that before!' moments along the way!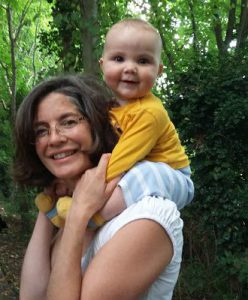 After stopping work for a while due to health issues, I'm now a full time mum and am thoroughly enjoying the opportunity to spend time with my little boy while I can, although I plan to go back into Early Years in the future, in one guise or another! As well as spending time with my lovely family I have a passion for all things vintage, including doing up my little retro caravan, and can often be found walking my dog, dancing to live music (of all kinds!), reading, eating marmite on toast and drinking copious amounts of good strong Yorkshire tea! I also have a little business on the side buying and selling vintage 'flowerpower' bedding and fabrics, just because I can!
Please read on and if you have any questions, opinions (be it praise or constructive criticism!) or ideas about what you have read, please comment or get in touch.  I'd really love to hear from you.